Pork Tenderloin with Apple Chutney
Introduction
This is the first recipe published to this blog! I'm starting with a relatively easy recipe that doesn't require any unusual equipment. Guests always seem to love this one. It is a wonderfully savory and tender pork dish with just the right amount of sweet. As a bonus, pork tenderloin is actually a wonderfully healthy cut of meat. It's very lean. So lean, in fact, that it made it on to the American Heart Association's Heart-Check list. Pork tenderloin is also much less expensive than its beef counterpart.
---
Equipment
Ingredients
Pork Tenderloin
2 lb whole pork tenderloin
Coarse sea salt
Fresh ground black pepper
1 tbsp oil and/or butter
Apple Chutney
1 tbsp butter
4 medium-sized sweet apples (e.g., honey crisp)
1/4 cup dried cranberries
3 tbsp brown sugar
3 tbsp cider vinegar
2 tbsp fresh-peeled & minced ginger
1/4 tsp salt
1/4 tsp dry mustard
1/8 tsp ground allspice
Garnish (Optional)
1 tbsp fresh chopped parsley
---
Instruction
Take out your pork tenderloin and pat it down with a paper towel to remove all the excess moisture. Getting that moisture off is essential for a nice sear.
Trim any excess fat off of the tenderloin.
Liberally season the surface with coarse salt. No need to be shy with the salt. Add some coarse pepper to taste. Set the tenderloin aside while we prep the chutney; letting it get closer to room temperature will also help us get a nice sear.
Peel and core the apples.
Chop the apple into roughly quarter-inch cubes. No need to be too precise on the chops – some texture variation is nice.
Portion out the remaining chutney ingredients: butter, cranberries, brown sugar, vinegar, ginger, salt, mustard, and allspice.
Start preheating the oven to 375 °F (190 °C). Meanwhile, get your oven-safe skillet nice and hot on the stove top.
Add your oil and/or butter to the skillet. If using oil, it should be shimmering. If using butter, the butter should melt very quickly and start to brown.
Add the tenderloin and sear with high heat for 2-3 minutes on all sides – including the ends. Don't forget  to use the edge of the pan to cover more surface area of the tenderloin.
Once your tenderloin is seared with a nice crust on all sides, move it the entire skillet to the oven. It will be cooking until the internal temperature reaches 145 °F (63 °C). This usually takes 15 to 20 minutes depending on your oven.
Back to the chutney: on the stove top, melt the butter at medium-high heat for the chutney in a saute pan.
Add all of the remaining chutney ingredients and bring to a boil.
Immediately cover and reduce heat to low. Simmer for 8 minutes.
After the 8 minutes are up, uncover. Bring heat back to high to cook off most of the remaining watery liquid that is in the pan.
Turn off the heat and cover to keep until we're ready to serve.
Around now, your pork should be up to a safe 145 °F (63 °C). Pull it out of the oven, place on a cutting board and allow to rest for at least 3 minutes (preferably 10 minutes).
---
To Plate and Serve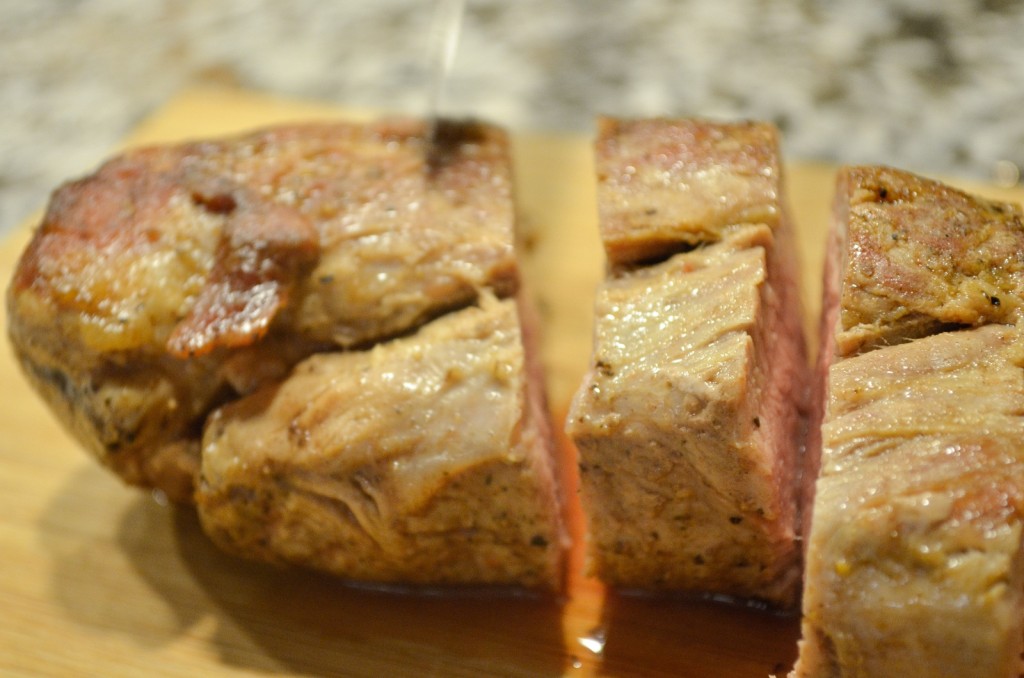 Slice tenderloin into 3/4″ medallions.
Top with apple chutney.
Optionally, garnish sparingly with parsley.