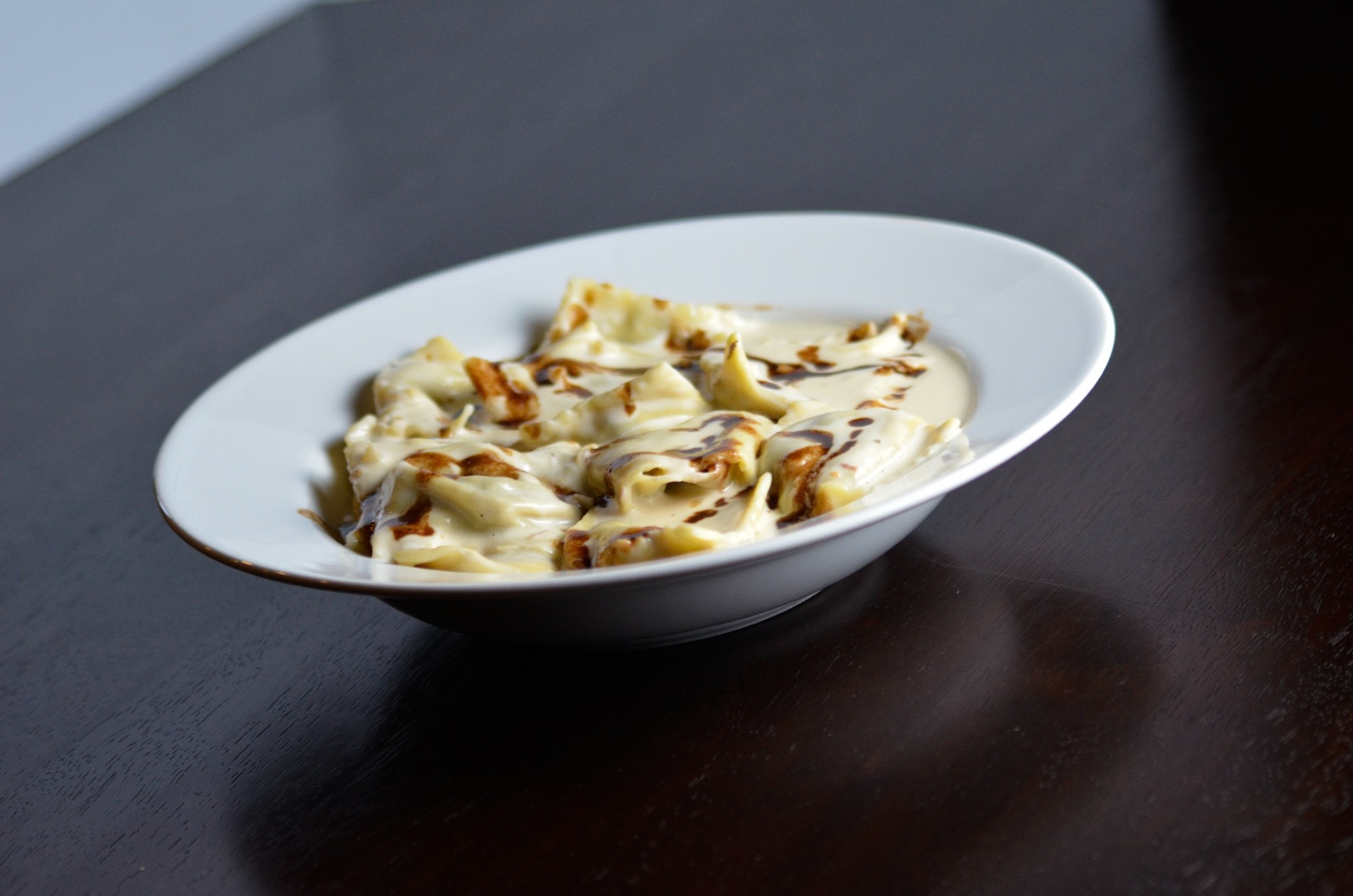 I hate leftovers. I'm not proud of it, but I can't seem to help it. If it weren't for my wonderful wife, who graciously gobbles up my leftovers, I'd probably have to stop cooking just to stop the waste. This recipe is a rare triumph over leftovers. It takes leftovers from my Braised Beef Short Ribs recipe, and transforms them into an intensely flavorful ravioli!
Recommended Equipment
Ingredients
Ravioli
4 large eggs
Flour – multiply egg weight by 1.5 (roughly 3 – 3.5 cups)
1/2 teaspoon salt
2 tablespoons olive oil
Leftover braised short ribs
Braising Liquid Reduction
Leftover braising liquid from short ribs
1/2 cup dry red wine
Alfredo Sauce
2 tbsp butter
1 cup 1% milk
4 oz cream cheese
3 cloves garlic – minced
3 oz freshly grated parmesan cheese
Salt  & pepper to taste
The Ravioli Dough
Pasta dough is 2 parts egg to 3 parts flour. So take the egg weight and measure 1.5x that amount in flour.

The flour weight should be 150% of the egg weight. Measuring pasta ingredients by weight will give much more consistent results than using volume.

Combine the eggs, flour, salt, and olive oil into a bowl and mix. I use the beater attachment on my mixer for 2 minutes at the second-to-slowest setting.

I start with the beater attachment, then move to the dough hook on my stand mixer.

Knead the dough thoroughly. I do 2 minutes with a dough hook in the mixer, and 2 minutes by hand.
Cover the dough and put it in the refrigerator. Allow the dough to rest for 30 minutes.
The Ravioli
Take your leftover braised short rib out of the refrigerator. Scoop off the top layer of hardened fat. Separate the ribs from the braising liquid, but hold on to that braising liquid!

Leftover short ribs. It doesn't look terribly appetizing yet. It gets better!

Separate the dough into roughly 4 parts.
Using a pasta roller (mine is an attachment for my mixer), flatten out the dough – one part at a time. On my roller, I go to thinness setting 6 (of 8). You want it thin, but not so thin that the ravioli break too easily. If the pasta keeps getting holes because it is too sticky, work in small amounts of flour to the dough – a teaspoon at a time.
Lightly dust the counter and any molds/templates with flour. This will help prevent the pasta from sticking. Keep doing this as needed.
Lay down one sheet of the pasta. Fill with small mounds of the short rib.
Cover with another sheet of pasta. Note: before I had a ravioli template, I liked to brush this second sheet with egg wash to help seal the two layers. You may want to do the same.
Use a pastry wheel or pairing knife to cut each ravioli.

The cut ravioli hold very well when frozen. Use layers of parchment paper to keep them from sticking together.

At this point you could continue on with the recipe, or, you could freeze the ravioli. It holds amazingly well.
The Reduction
The Alfredo Sauce
Combining It All